A New Trend was set in Blood Information Portals online
It was named World Blood Organization. But it's name has nothing to do with UNO or any reputed organization.It's by common men.
A group of students from India have started this new blood information portal, World Blood Organization
The idea of this portal is to become a search engine for the blood needy.
So how is this site different?
We could always update our information about the status of availability or recent donation
You could simply update the details by logging into your account.  If you donate blood then your name isn't shown in search for three months as it is the mandatory time gap suggested, for your body to regenerate the blood. Some how if you are not interested in donating you could toggle the setting so that your name isn't shown on search.
What about Blood Banks who may or may not have the required blood group?
They have solved this issue too. If you are a blood bank, you could authorize a user as manager so that he could daily update the information of blood units in your blood bank so that you blood bank is shown in results only if you have that blood units available.
I am a girl and worried about my mobile number's privacy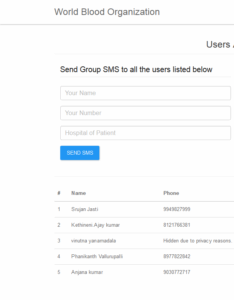 Don't worry, your number is always hidden. But how could one get to you for a donation? The portal have embedded group messaging to all results so that the process of contacting all individuals become quick & easy. You will be notified about the needy and you could get back only if you are interested.
What if you aren't medically fit for donating blood but interested in serving society?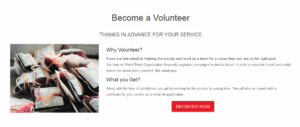 Unlike other information portals this Organization doesn't stop just at providing info. It seems that they organize awareness programs and also appreciate the frequent donors with a cash prize biannually. Organizing events do require man power so help with the man power of yours.
These are a few of many features they have been providing. Register today and give your service to the organization and in turn to the society.